Pale Kings and Princes by Cassandra Clare and Robin Wasserman
7/30/2015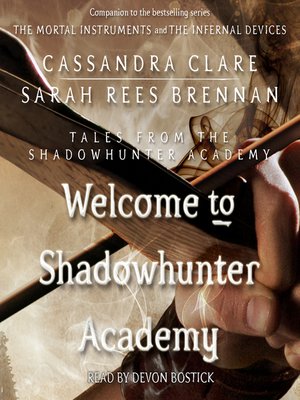 As a former vampire, Simon gets along with Downworlders. The Clave does not. One of ten adventures in Tales from the Shadowhunter Academy.





As a former vampire, Simon's always been sympathetic to Downworlders. But after a training exercise goes wrong, he gets a glimpse into the Shadowhunters' prejudice as he learns about the origin of Helen and Mark Blackthorn, principle characters in

The Dark Artifices

.
THOUGHTS
I was very excited for Simon's summer. Sadly, this installment only told of his memories of summer. I guess there was nothing really to tell since he felt miserable all summer, probably except those times he was with Izzy.
As to why his summer was miserable -Izzy. After three dates, all an epic fail, Simon decides to withdraw from her again. They really tried, but I think they try too much. I was groaning and sighing (inside) while reading this part. Oh come on, when are they ever going to be together again?! Are they ever going back together again?! Oh gawd this is awful!
The academy's visitor is Helen Blackthorn, to share how her parents met. Her real mother - and Mark's- is a Seelie Court faerie named Lady Nerissa. Really, she was treated more like a prisoner than a mentor, because she's part faerie. So the drama, some of the students literally storm out because of overcoming emotions. And of course our boy Simon, ex-downworlder, has nothing but sympathies for Helen.
I really think that Simon is gonna play a big role in fighting for equality for the downworlders. I really believe this. I think he might not even go on to become a shadowhunter. Like how Catarina Loss still call him "daylighter," like it has an underlying meaning to it.
About the story Helen told the students… what can I say? It seems the most likely story that happened. I feel so sorry for Arthur Blackthorn. Helen and Mark must feel a half-baked love from their parents. They love them but there's a BUT. Anyway, we learn that Helen endured all the humiliations all in the name of love. The condition was that if she were to do the lecture, she and Aline may have a day to come back to Idris to marry. Then towards the end she said they might not get married after all. Oh gawd, stop using your brain and trust the heart! (worst advise ever?)
Going back to Simon and Izzy's relationship woes. Guess who hasn't given up yet? Izzy seemed to be a different person in this story. She was patient and actually very nice to Simon and she was always positive about things. Who else here thinks it was cute when she got jealous of Clary? Girl, you don't even have to bother. They find their answers at last. Well mostly for Simon. See? All they needed was each other. (cheese melting)
The most awaited kiss… erm.. make-out has finally happened! They are back together, people of this fandom! I'm sure many readers are as relieved as I am. Let's move along from this, and on to greater issues at hand, like, are the fair folk going to strike again? How about a more positive change to the Clave?
Anyways, the story according to Helen's mother. WHAT THE HELL IS WRONG WITH YOU?! THAT WAS SUCH A BEAUTIFUL PIECE, I WANTED TO CRY MY EYES OFF but I was still at work so I had to choke my sobs… oh my gawd what a tragedy. TRAGEDY, YOU HEAR ME!
RATING
5 stars
QUOTES
It made him love her all the more, seeing how angry she got on behalf of her friends.





But then, ever so slightly, she melted. "Kidding. Mostly."




"Relieved," he said. "Mostly."





"You are so weird."




"I try my best."





Simon had never realized what a sad sound it was, hope.





That I just need you to be you. I only want you.





If we jump, we jump together. We fall together.





Losing himself to Izzy-could it be that this was the only way to really find himself?