We Were Liars by E. Lockhart
5/08/2015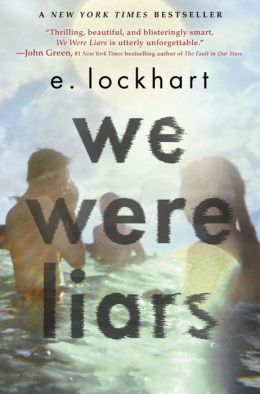 A beautiful and distinguished family.




A private island.




A brilliant, damaged girl; a passionate, political boy.




A group of four friends—the Liars—whose friendship turns destructive.




A revolution. An accident. A secret.




Lies upon lies.




True love.




The truth.





We Were Liars is a modern, sophisticated suspense novel from New York Times bestselling author, National Book Award finalist, and Printz Award honoree E. Lockhart.




Read it.




And if anyone asks you how it ends, just LIE.
Thoughts

This is one of those selection process where I just pick a book title because it has been conditioned in my mind. Like I've been seeing it all over the internet, book blogs or tumblr. Without expectations and knowledge of the author's baclground whatsoever, I plunge in the story.

This type of selection process has not failed me yet, because I absolutely love We Were Liars! The way the story is told is splendid, because it deceives you into thinking that you know things but then proves you wrong in the coming chapters. Yes you were lied to. But in this case, it was a lie excellently executed.

I will simply say that the storyline was beautifully written, the characters are adorable and you will remember them forever, and the setting -magnificent!

So I know that there's a twist, but it still surprised me! The twist is beautiful and sad and great and just ... I'm out of words to say!

For this year this has been the fastest book I ever finished -one day! Well it's an easy read but still I could not put it down! Well I lamost did when Cady finally remembered the truth, but that was beacause I think I had a mini heart attack. But I told myself that i must be strong and carry on reading, and I did and I felt great after reading this book because though there was loss, but love was regained...

Rating
5 stars

Favorite Quotes


I am not talking about fate. I don't believe in destiny or soul mates or the supernatural. I just mean we understood each other. All the way.
He was contemplation and enthusiasm. Ambition and strong coffee.
Be a little kinder than you have to.
Do not accept an evil you can change.
Always do what you are afraid to do.
"A part of me died," he says. "And it was the best part."
"There is not even a Scrabble word for how bad I feel."
It is good to be loved, even though it will not last.
The story ended a long time ago.
I endure.