P.S. I Still Love You by Jenny Han
6/04/2015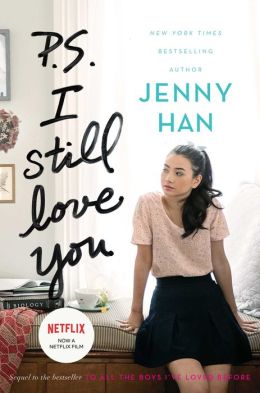 Lara Jean didn't expect to really fall for Peter.
They were just pretending. Until they weren't. And now Lara Jean has to learn what it's like to be in a real relationship and not just a make believe one.
But when another boy from her past returns to her life, Lara Jean's feelings for him suddenly return, too.
Can a girl be in love with two boys at once?
In this charming and heartfelt sequel to the New York Times bestseller TO ALL THE BOYS I'VE LOVED BEFORE, Lara Jean is about to find out that falling in love is the easy part.
Thoughts
While I have mentioned before that I'm not loving the book on the first half, well thank heavens it got good on the second part.
As I said, I didn't like that there was not much Peter to read about, especially that their relationship is for real. The answer would be because he was always with Genevieve. That cow! I guess it was legit because Gen did need him, but obviously she won't back down because she's doing it out of spite. Though it saddens me that Lara Jean and Gen didn't rekindle their friendship, I guess it was for the best, because they can't change the fact that Gen was there before her and so much happened between Peter and Gen, that it will always cast some kind of shadow between Peter and Lara Jean's relationship.
John Ambrose McClaren. I love that name, and I like him! Peter's absence totally highlights John's character, how he's always there for Lara Jean, and finding out that he liked her all those years and even until the present. But he was made some sort of fodder, an obstacle, well I think he deserved better! I want to see him in that WWII uniform. I must admit, the USO party was my favorite part. I wish their game, Assassin, was given this extravagant storyline and made it more fun!
It's not the greatest love story of all time and it's not the sweetest, and definitely it's not the most heart breaking, but the thing is, it's the realest, know what I'm saying? Young love seems like a million years ago for me, but this story, Lara Jean and Peter's love story, gave me hope. Hope that not all teens are about sex, drugs and rock and roll (hahahaha), but also about experiencing and feeling real love in its truest sense, the same way adults do.
Rating
4 stars
Quotes
I can see now that it's the little things, the small efforts that keep a relationship going.
We broke so easily. Like it was nothing. Like we were nothing.
PETER AND ME, OUR BREAKUP, it's all so very high school. By that I mean it's ephemeral. Even this pain will be fleeting, finite. Even the sharp sting of this betrayal I should hold on to and remember and cherish, because it is my first true breakup. It's all just part of it, the process of falling in love. And it's not like I thought we'd stay together forever; we're only sixteen and seventeen. One day I will look back on all of this fondly.
Maybe really, really good things aren't meant to last for too long; maybe that's what makes them all the more sweet, the temporariness of them.
You have to let yourself be fully present in every moment. Just be awake for it.
When you lose someone and it still hurts, that's when you know the love was real.
So much of love is chance. There's something scary and wonderful about that.
I want it all, and to have it all, you have to risk it all.